EVER WANTED TO OWN YOUR OWN TACKLE SHOP

HERE'S YOUR CHANCE!

· Ground Floor Business Opportunity

.

· Be one of the first to operate your own mobile fishing gear retail business

.

· Full training and company support provided.

· Full range of top quality rods ,reels, fishing line, lures and tackle

· Full time or part time, earn a substantial income limited only by effort

.

Call now to find out more about how you can become

A Reel Em In mobile fishing gear specialist.

Ph 38030700 or 0413740334

Reel-Em-In" started trading back in Nov 2000.

We are Australia's newest entrant in the highly competitive fishing gear retail market.

We have been trading now for 4 years and growing stronger every day we have 30 Sale Rep around Australia.

We are the fastest growing tackle outlet in Australia and are constantly improving our range all the time.

We offer great value products at the right price and our gear has been thoroughly tested before we release any new products too the market.

Reel-Em-In is taking the retailing of fishing gear out of the Bait and tackle shops and retail chains, out into the lounge rooms and lunch rooms of every day Australians.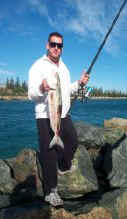 Reel-Em-In is the brain child of directors Barry Parker, Desmond Kenyon and Robert Lang
who each have 30 years of fishing experience on most of the East Coast of Australia.
This has provided the basis for a strong product range, purpose developed for these tough Australian conditions.
Matched with this is a dynamic marketing plan that will give the opportunity to every day Australians to own and operate their own mobile retail business without the huge expenses normally associated with the retail industry.
The directors of "Reel Em In" have over the last couple of years developed a sales strategy that will enable everyday Australians to confidently sell, fishing rods, reels, fishing line tackle and ancillary items.
A Mobile Reel-Em-In specialist can either trade full time or part time depending on their circumstances with an opportunity to earn a substantial income.
The sales strategy is based on two tried and tested marketing methods, Catalogue sales and Party plan. There are, however, a lot of "bells and Whistles" added that make the Reel-Em-In concept unique.
A substantial 35 page catalogue has been developed that displays in full colour the whole product range. Used in conjunction with the "Reel Em In" sales format , is a powerful selling tool.
A video has been produced showing all of the "Reel Em In" gear in use and this forms a back drop for "Reel Em In" fishing gear "parties". Suffice to say there are boundless opportunities for a for "Reel Em In" fishing gear "parties". Suffice to say there are boundless opportunities for a mobile specialist to earn a sizeable income limited only by effort.
The product range that has been developed is particularly good. seven classes of fishing are catered to , Estuary, Surf, Bait casting/Spinning and Pelagic,/Bottom bouncing & fly gear.
There are three Estuary 2 PCE models, a 6' , 8'6" and 10'. & two One pce Estuary rods All are slow taper and super sensitive. There are six Surf models, an 11'6" light surf and 12' medium surf 13' surf. Both rods are characterized by their light weight, sensitive tip action and strength. and suit both spin rods or alvey reels with the new steel guides.
We also have three 1Pce custom built rods on Snyder Glass blank to suit the Alvey fisherman ONE 13'6" ,12' 10'6" super light surf rod.
State of the art technology is used in our Reef and Pelagic series rods. The 5' 6" , 6'6" Reef and 7' Pelagic, 7' spin stick are solid tip glass fibre with an Epoxy carbon wrap for added strength. The 8' Pelagic has a Carbon woven wrap over a glass wrap rod for that added strength.
The Reels made for these rods come from Haibo in China. Haibo is one of the larger reel manufactures having supplied Europe for many years. Four spinning reel models are characterized by their smooth operation , 4 ball bearings, polished alumina spool, balanced rotor and handle and anti corrosive body. HA1000 HA3000 HA5000 HA6000 we carry a full range of spare parts and spare spools are available for all these models. starting at $35.00 complete with a spare free spool.
Three overhead/Baitcaster models have 3 ball bearings, stainless steel line feed, centrifugal brake, multi disc drag precision gears.
HBC20G HBC40A HBC50A
Added to this is a full range of monofilament fishing line , tackle and a host of ancillary lines like bags, tackle boxes and Knives just to name a few. What's on offer is truly a mobile tackle shop and the best part is yet to come, price.
The Reel-Em-In directors have been able to source all of the gear at unbelievably low prices. Add to this the low costs involved in delivery to the market means that the savings are passed on to the customer.
The end result is a business opportunity for fisher people to own their own mobile retail operation selling great quality gear at unbelievably low prices and earning a substantial income.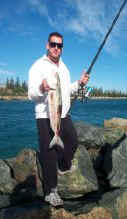 JUST PHONE ONE OF THE DIRECTORS BELOW
AND SEE HOW EASY IT IS TO BECOME
A REEL-EM-IN MOBILE SALES SPECIALIST
IT'S YOUR OWN BUSINESS
SO GET STARTED TODAY
WITH CATALOGUE KITS FROM JUST $500.00
Mobile starter kits from $2500 AND YOU GET ALL THIS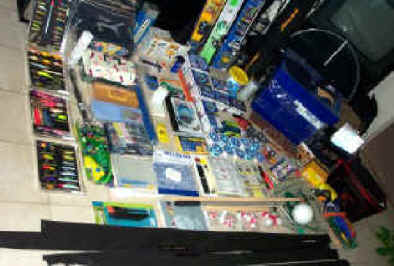 and go up $20,000 for a fully self contained mobile trailer like this one.