ALVEY 6500bcvRRT TURBO SIDE CAST REEL
$205
$17.95
EXPRESS POST $22.95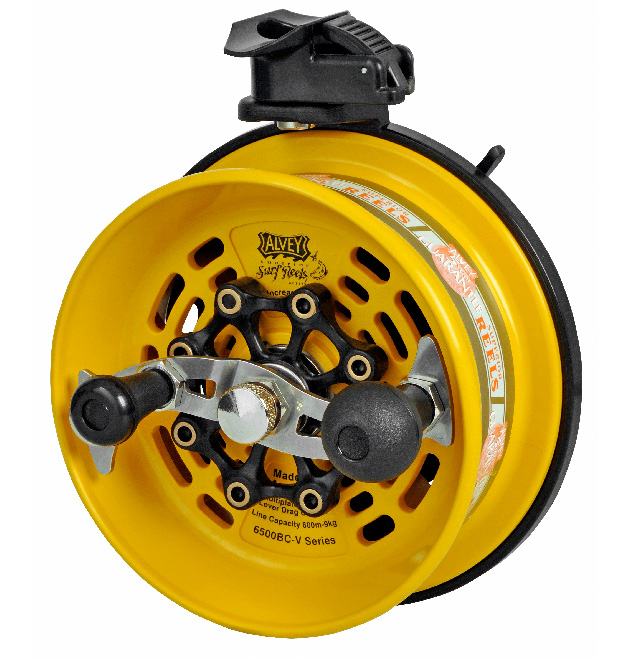 6500BCVRRT
The 6500BCVRRT incorporates the new Turbo Cast mechanism and has the addition of a rapid retrieve handle plate system. This handle plate system can give you up to 30% increase in recovery rate using the smaller handle and still gives fish stopping 1:1 power in the larger outer handle. Casting with the Turbocast System improves your distance by keeping the reel slightly further away from the rod allowing the line to flow more freely.
Vented design reduces weight and looks great. The venting also allows sand to be rinsed out easily in salt water while fishing
The new disc adjusting nut gives massive drag pressure to control large fish. This disc also has a built in alert that will only sound when line is being released under drag pressure. A fish alert switch on the back side of the reel can be engaged when leaving the rod and reel unattended to warn you of a fish taking line, this will sound even when the drag is off.
The smooth clutch is a multi-plate design with polished brass platescombined with PTFE coated woven glass washer which can also withstand very high temperatures.
If you bait fish most of the time but occasionally like to throw out a lure this is the reel for you.
Great fishing reels for tailor, salmon, big bream.
Only available in right hand wind.
ULTRA LIGHT -EASY TO USE
THIS REEL IS DESIGNED FOR THE FISHERMAN THAT LIKES TO FISH THE SURF OR DEEP SEA WITH
THE THRILL OF CATCHING LARGE FISH ON A POWERFUL REEL.
THIS REEL REQUIRES MINIUM MAINTENANCE AND COMES WITH A 5 YEAR WARRANTY
BUILT WITH BRASS & BRONZE COMPONENTS AND FIBRE GLASS SPOOL
LINE CAPACITY 650M-9KG LINE AND IS SUITED TO A ROD 3.3M-4.8M
LOW MAINTENANCE REELS
11 GOOD REASONS TO CHOOSE ALVEY REELS
MORE RELIABLE :NO BEARINGS AND GEARS TO CLOG , SLIP OR FAIL
EASILY MAINTAINED : RINCE IN FRESH WATER - OIL MOVING PARTS
SPARE PARTS ALWAYS AVAILABLE : MADE IN AUSTRALIA FOR YOUR CONVENIENCE
EAST TO USE: FEEL EVERY BITE - CONTROL YOUR FISH
LARGE LINE CAPACITY : BIG FISH RUNS -NO WORRIES
EASY TO CAST : ACCURATE - NO OVERRUNS - NO BACKLASH
NOT AFFECTED BY SALT OR SAND : LONGLIFE CORROSION RESISTANT CONSTRUCTION
POWERFUL DIRECT 1:1 RATIO : UPTO 4 TIMES LIFTING POWER OF GEARED REELS
COMFORTABLE TO FISH WITH: ARMS ARE IN A RELAXED POSITION
MODELS TO SUIT ALL AGE GROUPS : OVER 45 MODELS - JUNIOR TO SERIOUS ANGLERS
ALVEY GUARANTEE: NO WORRY 5 YEAY WARRANTY
[ ALVEY REEL 40B ] [ ALVEY REEL 650B ] [ ALVEY REEL 625B ] [ ALVEY 6500BCV REEL ] [ ALVEY REEF KING COMBO ]
[ ALVEY 500B REEL ] [ ALVEY FLY REEL ] [ ALVEY 6500BCVRRT REEL ] [ ALVEY 600B ]
DELIVERY FEE IS CHARGED FOR ALL PARTIES OUT SIDE OF BRISBANE AREA